MATCH RECAP: NCFC Bests Charlotte Independence at Home, 2-0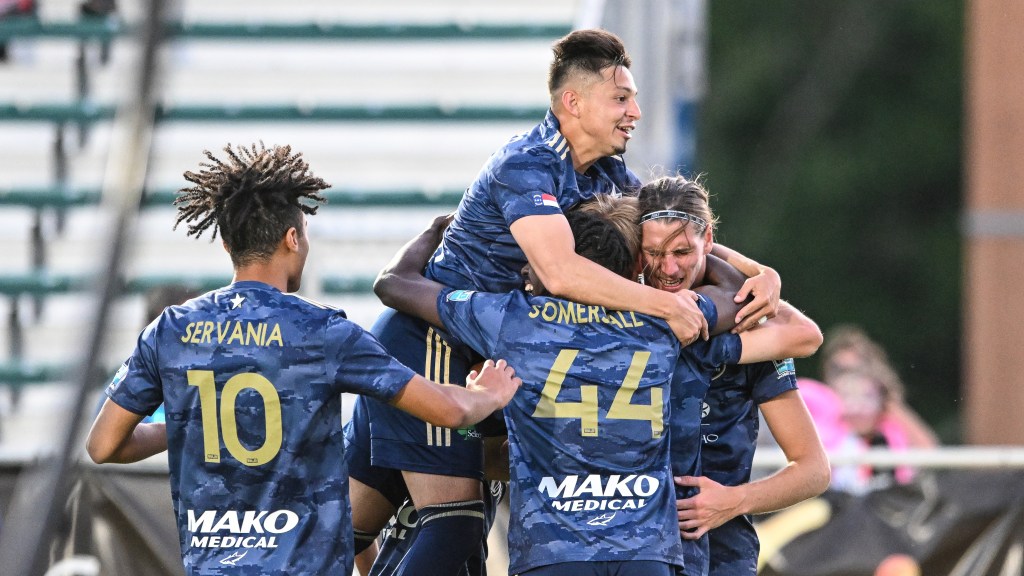 CARY, NC (June 18, 2022) — North Carolina FC blanked in-state rival Charlotte Independence Saturday night, 2-0, with a goal from each of the starting forwards, Nicolas Molina and Garrett McLaughlin, and a clean sheet from keeper Will Pulisic.
"Certainly pleased for the group to get a good result tonight," Head Coach John Bradford said. "I thought defensively, to play against a group that has a lot of talent like [Charlotte] … I thought we weathered the storm and kind of grew into the game."
Both teams were held scoreless through the first half, but it was Argentinian Nicolas Molina who finally broke the ice for NCFC. The scoring play began with a great run from Garrett McLaughlin, who crossed the ball across the six-yard box to his striker partner Molina, who slipped it home. A dream debut for the striker, and the first assist of the season for Garrett McLaughlin.
"It's been four long months I've been waiting for this night and the way it happened, it's a dream come true," Molina said. "Obviously the win, the goal, we played well, it's everything I dreamt for."
"Nicolas Molina is just getting started," Bradford continued. "He's a talented kid and tonight wasn't even his best night. He's only going to get better."
In the 88th minute, Oalex Anderson's lightning pace proved too much for the Charlotte center backs, and Anderson was fouled in the box to award NCFC a penalty kick. Garrett McLaughlin converted the PK for the second goal of the game, and McLaughlin's seventh of the season.
Goalkeeper Will Pulisic earned his second clean sheet of the season, logging one save, two punches and three clearances on the night.
"We knew we had some firepower coming off the bench," Pulisic said. "I think everyone put in everything they had, a great performance. Everyone gave everything, they left it all out there. Very selfless from everybody."
The club also hosted its first ever Juneteenth Festival before the game, though this was the second year North Carolina FC has had a match dedicated to the celebration of Juneteenth. Leading up to Saturday's clash, the organization revealed player-inspired and designed t-shirts and scarves.
"For our group, we've made it an important piece to give them a voice, let them be part of the design process for how they want to recognize Juneteenth. I'm so proud of them."
Up Next: North Carolina FC hits the road to take on Central Valley Fuego FC on Saturday, June 25, at 10:30 p.m. ET. The match will be streamed live on ESPN+.
Match Notes:
Nicolas Molina made his first appearance and start for NCFC.
Nicolas Molina netted his first NCFC goal.
Garrett McLaughlin scored his seventh goal of the season with a successful penalty kick conversion, and recorded his first assist of the season.
Will Pulisic registered his second clean sheet of the season.
Box Score:
NC (4-4-2): Will Pulisic, Christian Lue Young, Jordan Skelton©, Gustavo Fernandes, Nelson Flores Blanco, Luis Arriaga (Britton Fischer 89'), Cole Frame (Jaden Servania 59'), Showkat Tahir (Raheem Somersall 59'), Nelson Martinez, Garrett McLaughlin (Max Flick 89'), Nicolas Molina (Oalex Anderson 69')
Subs Not Used: Nicholas Holliday, Nicolas Rincon
CLT (4-4-2): Dane Jacomen, Koa Santos, Shalom Dutey, Carson Talboys, Clay Dimick, Omar Ciss, Chris Hegardt (Grayson Barber 67'), Tomas Maya (Diego Rocha 75') Quinn McNeill (Miguel Ibarra 61'), Tresor Mbuyu (Illia Shevstov 75'), Khori Bennett (Ivan Luquetta 67')
Subs Not Used: Logan Bellina, Hector Acosta
Score:
NC: 2
CLT: 0
Goals:
NC: Nicolas Molina 62' (Assist by Garrett McLaughlin), Garrett McLaughlin (PK 88')
CLT:
Cautions:
NC: Cole Frame — 7'; Gustavo Fernandes – 30'; Nelson Flores Blanco – 32'; Christian Lue Young – 51'; Nicolas Molina – 69'
CLT: Chris Hegardt – 33'; Shalom Dutey – 44'; Koa Santos – 53'; Ivan Luquetta – 72'
Ejections:
NC: —
CLT: Shalom Dutey (second yellow, 88')