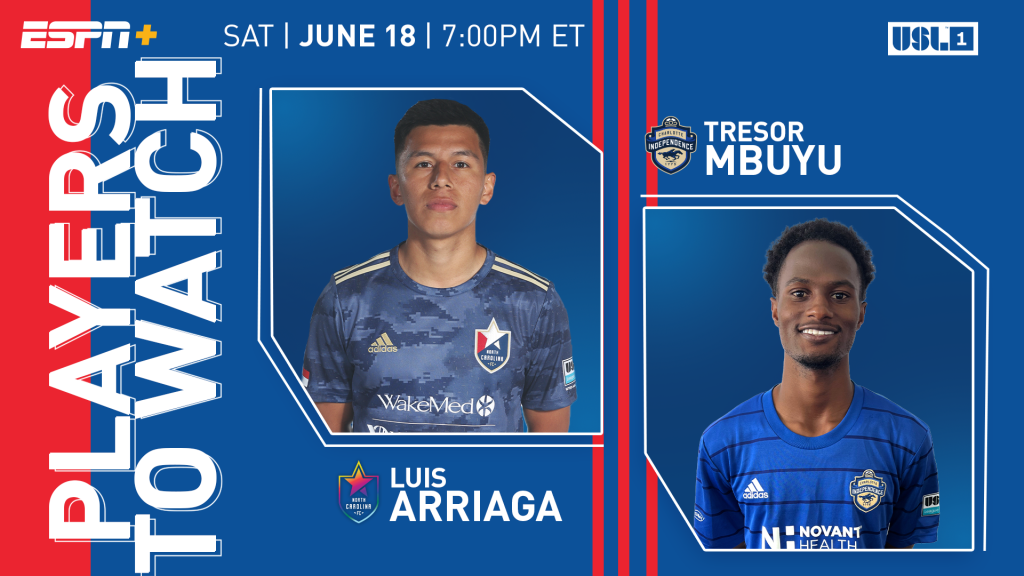 Match Info:
North Carolina FC vs. Charlotte Independence
Saturday, June 18 at 7 p.m. ET
WakeMed Soccer Park
Cary, NC
CARY, NC (June 16, 2022) – North Carolina FC will return to WakeMed Soccer Park to take on the Charlotte Independence in the Battle for NC on Saturday, June 18 at 7 p.m. ET. Tickets to the match are available here, and the contest will be available to stream on ESPN+.
Ahead of the match, the club will host its Juneteenth Festival in partnership with Our Stop Shop at the stadium from 4:30-6:30 p.m. ET, featuring exhibitors, food and beverages, and live entertainment. While admission to the festival is free and open to the public, parking for the festival and game is $10.
Last Time Out
The points were shared last Wednesday as North Carolina FC traveled to face Northern Colorado Hailstorm FC, drawing with the Hailstorm 1-1. Showkat Tahir scored his first professional goal during the match, and Irvin Parra tallied the equalizer for the home side.
"I was really pleased with the way our group battled on the road tonight, particularly in the second half," said Head Coach John Bradford following the match. "I thought we defended collectively well and we were determined to not give any goals away. As the game wore on, we continued to create quality chances and I know our locker room feels unlucky to not come away with all three points. Congratulations to Showkat on his first professional goal and a strong performance overall."
Tahir opened the scoring for NCFC, taking a pass from Luis Arriaga in stride, beating his defender to place a shot just over the fingertips of Colorado goalkeeper Johan Penaranda and into the back of the net. The goal was Tahir's first of his professional career and his first of the regular season, edging the North Carolina side into a 1-0 lead in the 16th minute. Arriaga collected the assist, now registering three on the season.
Where to Watch: ESPN+
Players to Watch
North Carolina FC – #7 Luis Arriaga
Leading NCFC in assists and locked in a three-way tie for the third-most assists in the league, Arriaga continues to assert his utility in the midfield. With nine matches played this season, the Santa Rosa, CA native has scored one goal and assisted three more in 810 minutes of playing time, leading the North Carolina side to four wins thus far. In order for NCFC to remain competitive for a top spot in the USL League One table, collecting three points against the Independence will be vital. Arriaga will look to contribute on both sides of the ball in Saturday's matchup, creating scoring opportunities while also tracking back to bolster the NCFC backline.
Charlotte Independence – #11 Tresor Mbuyu
One of the top competitors in this year's Golden Boot race, Mbuyu has scored five of Charlotte's 13 goals this season in seven appearances, clocking 521 minutes of playing time. Having dropped their most recent contests against the Greenville Triumph and the Richmond Kickers, the Independence will look to re-enter the win column in Saturday's match against NCFC, with Mbuyu leading the charge on offense in hopes of adding his name to the scoresheet as the Battle for NC ensues.
Up Next: North Carolina FC will hit the road to face Central Valley Fuego FC for the first time this season at Fresno State Soccer Stadium in Fresno, CA on Saturday, June 25th at 10:30 p.m. ET. The match will be available to stream on ESPN+.
Vista previo del partido: North Carolina FC va a jugar contra Charlotte Independence en la batalla para NC
Información del partido:
North Carolina FC vs. Charlotte Independence
Sábado, 18 de junio a las 7 p.m. ET
WakeMed Soccer Park
Cary, NC
CARY, NC (16 de Junio, 2022) – North Carolina FC va a regresar al Wakemed Soccer Park para jugar contra el Charlotte Independence en la batalla para NC el sábado 18 de junio a las 7p.m. E.T. Las entradas para el partido están disponibles here, y el partido se transmitirá por ESPN+.
Antes del partido, el club organizará su Festival Juneteenth en asociación con Our Stop Shop en el estadio de 4:30 a 6:30 p.m. E.T., con expositores, alimentos y bebidas, y entretenimiento en vivo. Si bien la entrada al partido y al festival es gratuita y abierta al público, el estacionamiento cuesta $10.
Último partido
Los puntos se compartieron el miércoles pasado cuando North Carolina FC viajó para enfrentar a Northern Colorado Hailstorm FC, empatando con ellos 1-1. Showkat Tahir anotó su primer gol profesional durante el partido, e Irvin Parra anotó el empate para el equipo local.
"Estaba muy satisfecho con la forma en que nuestro grupo luchó en la carretera esta noche, particularmente en la segunda mitad," dijo el entrenador en jefe John Bradford después del partido. "Pensé que defendimos bien colectivamente y estábamos decididos a no regalar ningún gol. A medida que avanzaba el partido, continuamos creando oportunidades de calidad y sé que nuestro vestuario tiene la mala suerte de no salir con los tres puntos. Felicidades a Showkat por su primer gol profesional y un rendimiento sólido en general."
Tahir abrió el marcador para el NCFC, tomando un pase de Luiz Arriaga, superando a su defensor para colocar un tiro justo por encima de las yemas de dedos del portero de Colorado Johan Penaranda y en el fondo de la portería. El gol fue el primer de Tahir en su carrera profesional y su primer gol de la temporada regular, llevando al equipo de North Carolina a una ventaja de 1-0 en el minuto 16. Arriaga recogió la asistencia, ahora registrando 3 en la temporada.
Donde ver: ESPN+
Jugadores para ver
North Carolina FC – #7 Luiz Arriaga
Liderando a NCFC en asistencias y encerrado en un empate a tres por la tercera mayor cantidad de asistencias de la liga, Arriaga continúa afirmando su utilidad en el mediocampo. Con nueve partidos jugados esta temporada, el nativo de Santa Rosa, CA ha marcado un gol y asistido tres más en 810 minutos de juego, liderando al equipo de North Carolina a cuatro victorias hasta el momento. Para que NCFC siga siendo competitivo para un puesto superior en la tabla de la USL Liga 1, será vital ganar 3 puntos contra la Independence. Arriaga buscará contribuir en ambos lados del balón en el partido del sábado, creando oportunidades para anotar y también de seguimiento para reforzar la línea defensiva de NCFC.
Charlotte Independence – #11 Tresor Mbuyu
Uno de los principales competidores en la carrera de la Bota de Oro de este año, Mbuyu ha anotado cinco de los trece goles de Charlotte en esta temporada en siete apariciones, con 521 minutos de juego. Haber perdido sus concursos más recientes contra el Greenville Triumph y los Richmond Kickers, el Independence buscará volver a ingresar a la columna de victorias en el partido del sábado contra NCFC, con Mbuyu liderando la ofensiva con la esperanza de agregar su nombre al marcador a medida que se produce la batalla para NC.
El próximo: North Carolina va a viajar al Fresno State Soccer Stadium en Fresno, CA para jugar contra Central Valley Fuego FC por primera vez de la temporada el sábado 25 de junio a las 10:30 p.m. E.T. El partido se transmitirá por ESPN+.