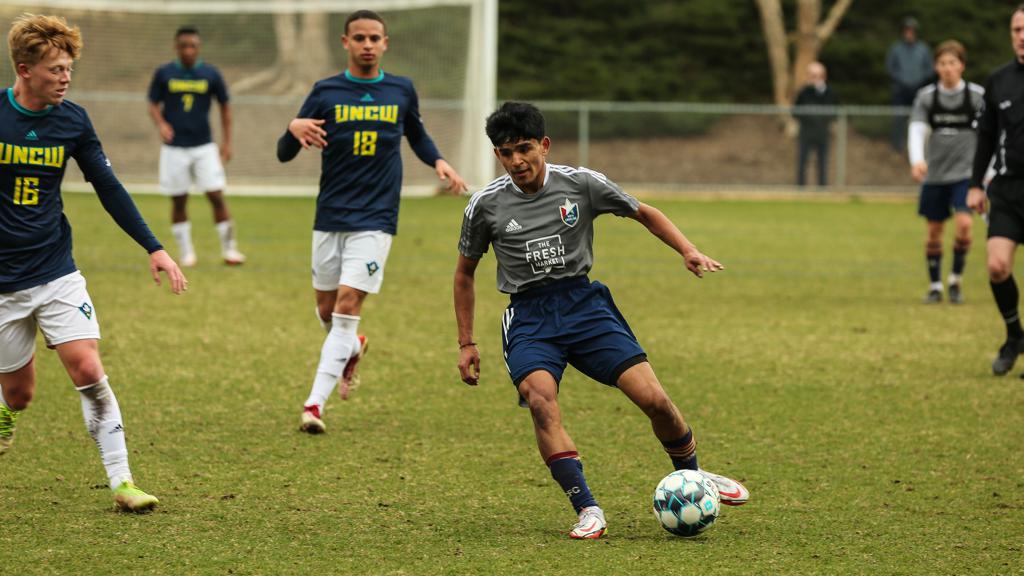 North Carolina FC continued their preseason schedule against the University of North Carolina at Wilmington on Saturday afternoon, defeating the Seahawks 3-0 behind goals from Christian Lue Young, Luis Arriaga, and Jaden Servania.
With twenty minutes expired in the first half, NCFC was awarded a corner kick that was taken by Arriaga. Finding the head of Lue Young at the back post, Arriaga recorded the assist as Lue Young converted the chance to put the North Carolina side up 1-0. The goal was Lue Young's first of the preseason schedule and his first with the club.
Arriaga doubled NCFC's lead with a goal of his own, receiving a pass from Garrett McLaughlin just outside the eighteen. With a precise touch, Arriaga buried a shot past the UNCW goalkeeper and into the upper 90, finishing the day with an assist and a goal.
Scoring NCFC's final goal of the contest was Servania, who received a short pass from Nicolás Molina in the box and finished the chance at close range. Servania's goal was also his first of the preseason schedule and his first with the club, extending NCFC's lead to 3-0. This scoreline held through the rest of the match as Head Coach John Bradford's team picked up their second consecutive win.
Up Next: North Carolina FC will host Columbus Crew 2 of MLSNext Pro on Wednesday, March 9 for their third preseason match of the year. This contest will be open to the public, with additional information for spectators and media available here.
Notes:
Christian Lue Young and Jaden Servania recorded their first preseason goals with the club.
Luis Arriaga, Garrett McLaughlin, and Nicolás Molina all recorded assists
Nick Holliday recorded the clean sheet, his second of NCFC's preseason schedule.