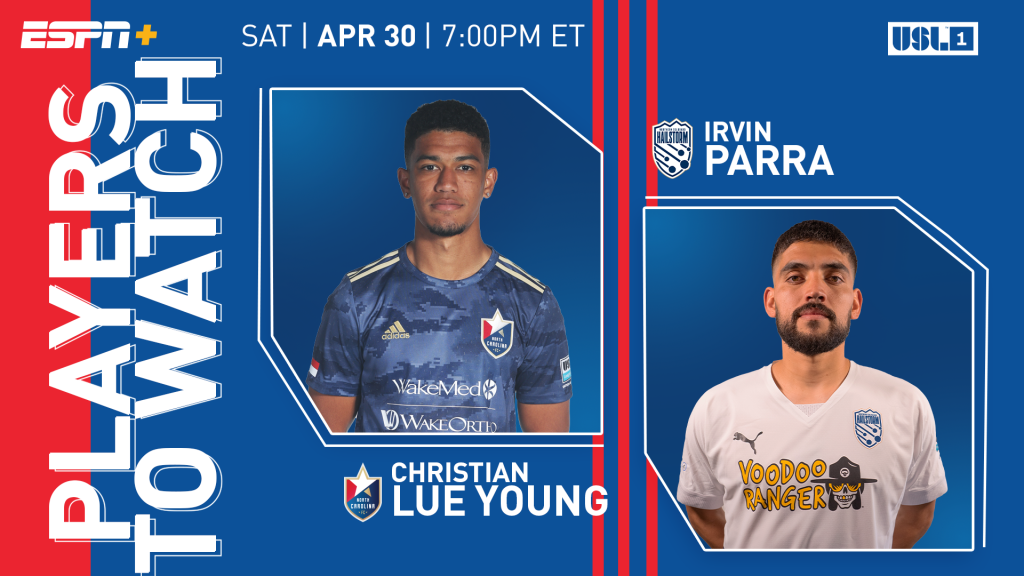 Match Info:
North Carolina FC vs. Northern Colorado Hailstorm FC
Saturday, April 30 at 7 p.m. ET
WakeMed Soccer Park
Cary, NC
CARY, NC (April 28, 2022) – North Carolina FC will face the visiting Northern Colorado Hailstorm FC for their final match in the month of April on Saturday, April 30 at 7 p.m. ET at WakeMed Soccer Park. Saturday's match marks NCFC's first time competing against the Colorado side, who joined USL League One as an expansion team for the 2022 season. Tickets to the match are available here, and the contest will stream live on ESPN+.
Last Time Out
The points were shared in North Carolina FC's most recent contest, drawing with the visiting Greenville Triumph SC, 1-1. Garrett McLaughlin collected his third goal of the regular season in the match, and Venton Evans tallied the goal for the South Carolina side. A solid performance from the NCFC backline, Pecka's regular season debut, and Nick Holliday earning the nod in net for the first time this season were among highlights from the game.
"Obviously, the objective of this game is to create chances and put yourself in a situation where you can score goals and defend the team well," said Head Coach John Bradford following the match. "I think in the general aspect, I'm pleased [with our performance], but to go up a man and not be able to convert one of the many chances that we created late in the game, to not get three points is disappointing. Overall, the group defended well and in the second half, most of Greenville's chances came off of set pieces and we defended well against those, as well as against second balls."
Where to Watch: ESPN+
Players to Watch
North Carolina FC – #2 Christian Lue Young
Lue Young joined NCFC in early January from Fort Lauderdale CF, and has since collected 270 minutes of playing time across three matches this season, all of which were starts. The defender has recorded nine clearances, two blocks, and seven interceptions this season, and continues to play an integral role in the NCFC backline while likewise contributing to the attack. As the North Carolina side hunts for their second win of the season, Lue Young will look to be involved in creating scoring opportunities whilst bolstering the defense.
Northern Colorado Hailstorm FC – #10 Irvin Parra
Starting in two matches for the Hailstorm this season and recording 180 minutes of playing time, Parra opened his scoring account with Colorado in their recent 2-1 loss to the Charlotte Independence. The 28-year-old boasts playing experience in USL Championship and MLS, and early into the USL League One season has asserted himself as a menacing presence up top, maintaining a 72.7% passing accuracy rate and logging six key passes. On Saturday, Parra will aim to get the Hailstorm on the board as the squad vies for their first win. 
Up Next: North Carolina FC will travel to face FC Tucson on Saturday, May 7 at Kino North Stadium in Tucson, AZ at 10 p.m. ET. The match will stream live on ESPN+.