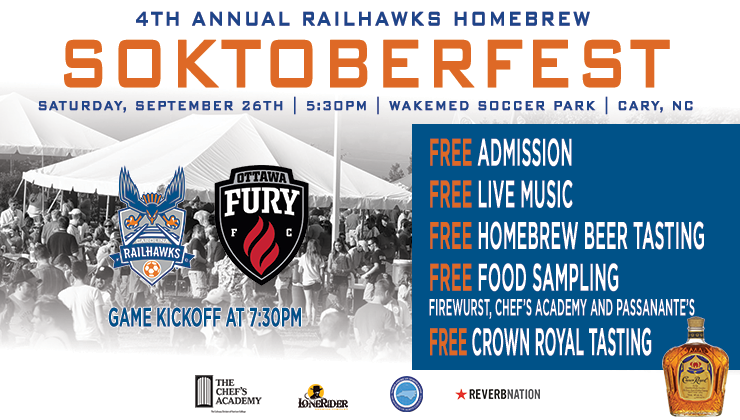 The Carolina RailHawks will be hosting the 4th Annual RailHawks Homebrew Soktoberfest on Saturday, September 26th. The pre-game festivities will begin at 5:30 pm at WakeMed Soccer Park and will run until 7:15 pm, followed by the RailHawks NASL match against Ottawa Fury FC.
The RailHawks Homebrew Soktoberfest is the RailHawks take on a German Oktoberfest, but with a focus on local craft and home brewers. A combination of German-themed food samples and traditional North Carolina fare, live music presented by ReverbNation, local craft beer, and homebrewed beer, Soktoberfest is a one-of-a-kind event that you can't miss.
Admittance for the 4th Annual Homebrew Soktoberfest will be free of charge, but donation jars will be set out for anyone wishing to support the Spread Your Wings Foundation.
A large number of local brewers from all over North Carolina will be sampling their beer for free and will put their homebrew to the test, as one brewer will walk away as the Homebrew Soktoberfest Champion after a fan vote.
The first 200 guests in attendance will enjoy complimentary food samples provided by Firewurst, The Chef's Academy, and Passanante's. The Backyard Bistro food truck will be onsite with traditional barbeque fare available for purchase, and beer and wine will also be available for purchase courtesy of RA Jeffreys, Adams Vineyards, and Lonerider. There will also be complimentary samples of Crown Royal Regal Apple tasting by North American Wine & Spirits. Enjoy the party grooves of Durty Dub provided by ReverbNation.
The following local brewers will be present at WakeMed Soccer Park on September 26th ready to offer attendees a taste of their unique beers:
NAME

CITY

BEER NAME

BEER TYPE

Craig Daniel

Raleigh

White to Play

Mate In One

Belgian Witbier

Imperial Ale

Josh Stevens

Cary

Sun-Drop Lemon Saison

Saison/Farmhouse Ale

Greg McKeeman

Wake Forest

Blackout Rye IPA

LFP Belgian

Glass Half-fool Pale

American Black Ale

Belgian Ale

American Ale

Jon Blasco

Garner

Jacked Up Porter

Cheetah Ale

Pumpkin Porter

Light Pale

Ed Crouch

Cary

Koln Kölsch

Krystal Weizen

Ersatz Oktoberfest

Kölsch

Hefeweizen

Oktoberfest

Bill Dubas

Raleigh

El Deguello

Succubus Lupulus

Psychotropic Wonderlust

Tennessee Rye Stout

Rye IPA Dry

Belgian IPA

American Pale Ale

Rye Stout

Alan Johnson

Morrisville

Yellow Card

Red Card

American Amber

Irish Red Ale

Greg Larance

Apex

Mild Gone Wild

English Mild Ale

Hopscotch Brewery

Raleigh

Clean Sheet IPA

Panenka Pale Ale

IPA

American Pale Ale

Kathleen Leupold

Cary

Brown Cow Milk Stout

Sweet Stout

Todd Wenzel

Garner

Honey Wine

Variety of Homebrews

Ken Baseley

Raleigh

Lights Out

Stout

Duke / Bipes / Hahne

Raleigh

Tropic Wheat

American Wheat

Bogart / Magee

Durham

Gingervitis

Hoptimus Prime

Goset a Beer, Man

Ginger Hefeweizen

IPA

Cherry Vanilla Gose
The RailHawks will return to WakeMed Soccer Park on Saturday, September 26th at 7:30 pm to host Ottawa Fury FC. Purchase tickets for this match here.
RailHawks Flex Plans for the remainder of the 2015 season are on-sale. Flex plans can be redeemed for tickets to any of the remaining NASL home matches and start at $55. The full RailHawks home schedule can be viewed here.
For more ticket and game information, visit CarolinaRailHawks.com/STH. To order, visit CarolinaRailHawks.com or call the Johnson Maserati Box Office at 919-459-8144.
Keep up with all RailHawks news by following them on Twitter, Facebook, and Instagram.